COMPETENCY ASSESSMENT & DEVELOPMENT
We assist Professionals, Organizations & Institutes (for MBA / Engineering Students) in measurably increasing their effectiveness in Leadership & productivity through Competency Assessments, Psychometric Testing & Gap Analysis.
WHY AN ASSESSMENT CENTRE .....
Assessment centre is undertaken to assess the Managerial competencies of the roles essential for Business objectives.
Functional competence -It is assumed that Managers and above have desired Functional competence for their respective roles. Hence the appraisal system will be the source to judge the functional competencies.
PURPOSE OF ASSESSMENT CENTRES IN AN ORGANIZATION: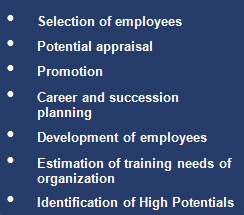 PURPOSE OF ASSESSMENT CENTRES IN EDUCATIONAL INSTITUTES AND B-SCHOOLS: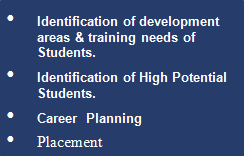 We identify gaps through the process of Assessment Centre and Identify the Competencies / Soft Skills where the student needs to be Trained instead of gaining just Text Book Knowledge.

We use various validated Tools for Behavioural & Competency Assessments :

• Psychometric Tool - Behavioural Assessment

• Group Discussion

• Business Case Study & Presentation

• In-Basket Exercises

• Fact Finding Exercises

• Individual / Group Role Play

• Management Games ( Indoor and Outdoor )

• Personal Interaction / Behavioural Interview

For more details about

ABBSCISSA

COMPETENCY ASSESSMENT & DEVELOPMENT CENTRES

mail to

dash@abbscissa.com